- PFF Scholarship work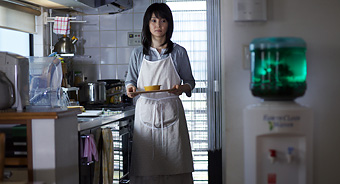 The 20th PFF Scholarship Film
35mm/90min/color
Director:Kohki Yoshida
The story takes place in a new residential area in the outskirts of Tokyo. A family photograph adorns the living room of the Hashimoto family. It is a heartwarming shot of the three family members from when they first moved here, finally having bought their own home that they had wanted for so long.
The wife, Michiko, hangs the laundry out on the balcony in the morning to dry. While she straightens out her husband's shirts, the husband, Ken-ichi, has finished eating breakfast alone and leaves for work without a word. Their son, Hiroaki, who hasn't been able to find stable work, leaves the house everyday to go to a part-time job. He comes home early in the morning and immediately disappears into his room. The Hashimoto family members no longer eat meals together at the dining table, or spend time together in the living room. Michiko yearns for a different relationship with her family than the one they have now, and is gradually overcome by loneliness. While feeling pressured from the trifling matters that occur within the residential area community, she tries to fill the emptiness that she hides in her heart.
Although this family might appear to be a strange one at first, similar situations probably exist in many other ordinary families. This film observes such relationships in a reserved manner.