- PFF Award Competiton 2014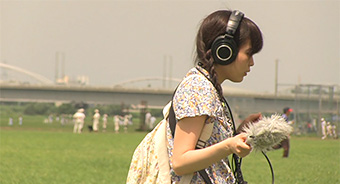 27min/color
Director : Chie Hayakawa
* with English subtitle
An 18-year-old girl named Yamame is informed of the existence of her living grandparents right before she leaves the group home where she grew up. Her grandfather is on death row and her grandmother has dementia. We are first drawn into the story by the positive way she accepts these facts without surprise or dejection. The young man who takes care of Yamame's grandmother records the sounds of the casual, ordinary daily activities in the city. These sounds help us realize the value of being alive and fill our hearts with profound emotion.
PFF Award Competiton 2014
GRAND PRIZE
- PFF Award Competiton 2014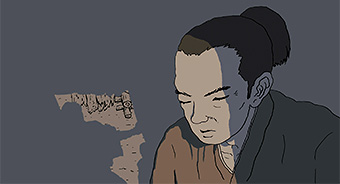 5min/color
Director: Yuki Nakajima
* with English subtitle
This animated short is a five-minute-long heroic fight to the death between ninjas troops! See ninjas run! See them jump! Shuriken knives fly! So do severed arms and heads! Such superhuman action sequences would be impossible in a live-action movie! Be awestruck as hand-drawn animation depicts a realistic ninja battle that would be difficult to realize even with SFX and wire action. See Rappa if you want to witness the reality of ninjas.
PFF Award Competiton 2014
RUNNER-UP AWARD
- PFF Award Competiton 2014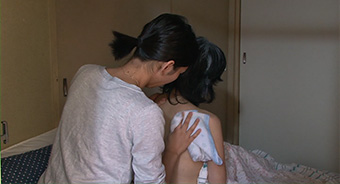 32min/color
Director: Shuko Yamanouchi
* with English subtitle
Hifumi's job is to fillet fish in a small-town supermarket. She cares for her bedridden mother in a tiny apartment. One day, she is reunited with Daisuke, who has returned from Tokyo, and attempts to rekindle the small flame of hope that she had buried deep in her heart. The feeling of hopelessness of a woman in her mid-20s having to care for a family member is expressed through the act of washing her hands. Watching Hifumi makes us want to sincerely root for her so that a brighter future will come her way.
PFF Award Competiton 2014
SPECIAL JURY PRIZE
- PFF Award Competiton 2014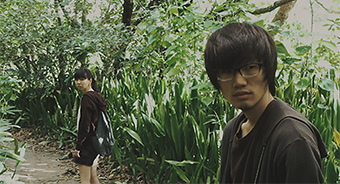 65min/color
Director: Kengo Yagawa
* with English subtitle
A new employee arrives at Hotel Horizon, a tourist hotel in Chichijima of the Ogasawara Islands. At first glance, daily life on the island appears pastoral, surrounded by the rich natural environment of the sea and mountains. But behind the apparent serenity, he catches a glimpse of the cheerless personal relationships stemming from the insular environment. The situation was silently creating a breeding ground for the eruption of a brutal crime.
PFF Award Competiton 2014
SPECIAL JURY PRIZE
- PFF Award Competiton 2014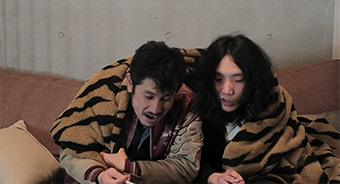 83min/color
Director: Daichi Watanabe
* with English subtitle
Tanaka, who works at a repair shop in the sticks, isn't getting anywhere in life. The new kid, Takeo, ends up quitting right away because he wants to play in a band, but the guys at the garage accept him affably. One day, a young man and his girlfriend bring in a car for repair, and Tanaka finds himself falling in love with the woman. The awkward but charming complications of human relationships that ensue fill this movie throughout.
PFF Award Competiton 2014
SPECIAL JURY PRIZE
- PFF Award Competiton 2014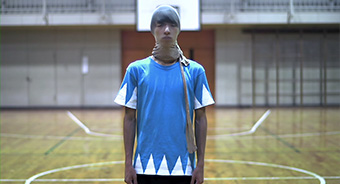 79min/color
Director: Toshimitsu Iizuka
* with English subtitle
Koga lacks presence and is being bullied in his class. His classmate Soejima becomes the next target of bullying after speaking up for Koga. Are they drawn to each other purely because of love or because they feel sorry for each other? Love (probably) can't change the world. Then the only way left is to change yourself. It's OK if the initial motive is complacent. Will Koga be able to change himself to prove his feelings for Soejima?
PFF Award Competiton 2014
ENTERTAINMENT AWARD
- PFF Award Competiton 2014
20min/color
Director: Manabu Oda
The enthusiastic members of a college film club are shooting a movie in an abandoned factory. The title is Neo Peach Boy, and it's a period drama (lol). The director is too keen and can't see what's going on around him. The leading actor is absurdly into his role. The cameraman is an older ex-member of the club and hard to deal with. A guy is trying to pick up a female member on the set... Can the members overcome such common troubles on a movie set and complete Neo Peach Boy?
PFF Award Competiton 2014
GEMSTONE AWARD
- PFF Award Competiton 2014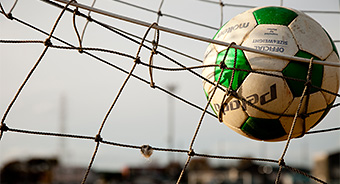 70min/color
Director: Takuma Sato
* with English subtitle
The Sanno High soccer team has been eliminated from the summer tournament. After the losing game, Natsu, the team's assistant, declares that she would not retire as was customary and would stay on until winter. But the team's reaction to this unprecedented decision is indifferent. The coach tries to persuade her to retire and her family insists that studying for entrance exams is more important. Then Kengo, the team's best player, retires unceremoniously and the remaining unmotivated members begin to take over.
PFF Award Competiton 2014
CINEMA FAN AWARD & Audience Award
- PFF Award Competiton 2014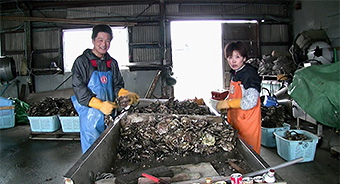 134min/color
Director: Kazuki Agatsuma
* with English subtitle
Hadenya is a hamlet located in Minamisanriku Town in Miyagi Prefecture. This is a documentary that earnestly pursued the closely-knit microcosm of the people living with the sea for three years leading up to the 3.11 Earthquake and Tsunami of 2011.
Everyone in the community gathers once a year for the Lion Dance. Families and relatives help each other out in their daily tasks at sea. The director Kazuki Agatsuma, who began shooting as an extension of folkloristics research, condensed the primitive state of coexistence characteristic of a closed community by recording the daily lives of its residents.
PFF Award Competiton 2014
JAPAN FILM PEN CLUB AWARD
- PFF Award Competiton 2014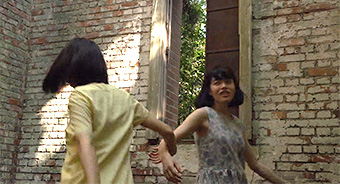 30min/color
Director: Yui Kiyohara, Michiru Tobita
Kako's mother has been missing for three months. She is reunited with her childhood friend Mitsuko at an eerie swamp where masses of dead fish are washed up. Kako neither works nor goes to school, and Mitsuko has just started summer vacation. The two amuse themselves by puttering around idly like they used to do when they were kids in places such as the swamp, the library, the woods, and an abandoned building they call "the temple." Meanwhile, even as Kako shuts herself up in her mother's room, her mother is no longer tangible to her, so she decides to carry out a certain act with Mitsuko's help.
- PFF Award Competiton 2014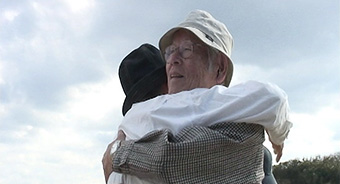 99min/color
Director: Kenta Higa
The director, born and raised in Okinawa, assumes the existence of a psychological borderline between Okinawa and the mainland and begins to shoot a documentary pursuing the idea. What emerge from the words and expressions of the people he meets are not only the political history of Okinawa and the Japanese mainland, but also a rich folkloristic study and the backgrounds of each individual who lives there.
- PFF Award Competiton 2014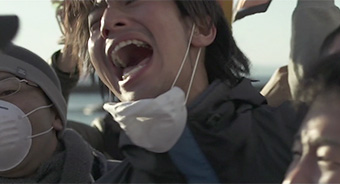 30min/color
Director: Kazuhiro Nakagawa
* with English subtitle
The movie begins with an announcement by the Cabinet Office. Operations by the Japanese Self-Defense Forces and the U.S. armed forces have managed to take out the unidentified kaiju that appeared off the Pacific coast of Japan, and the carcass would eventually wash ashore. This is a story set in the town where the creature ends up, depicting people of various positions on the matter.
- PFF Award Competiton 2014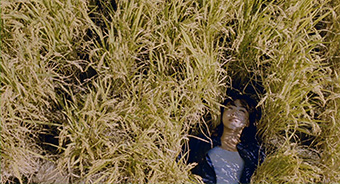 36min/color
Director: Marina Tsukada
Chikage works as a dental hygienist and lives every day dispassionately. She lets her boyfriend stay over at his female friend's place, prompting her coworker to ask why she's going out with him in the first place. Then her older sister informs her, "You never seem interested in anything." Chikage had felt neither happy nor unhappy about her life until recently, but gradually the minutiae of her daily existence begin to weigh her down.
- PFF Award Competiton 2014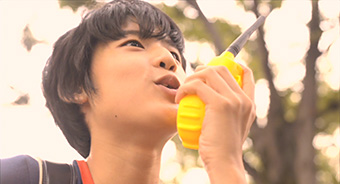 19min/color
Director: Akiyo Fujimura
Jun, the protagonist, has built an emotional wall around himself since the death of his best friend Yuichi. When they were younger they used to pretend to be astronauts on the Apollo mission using walkie-talkies, and Jun still plays the game by himself. One day, when he secretly talks into his walkie-talkie again at school, somebody mysteriously answers back. The voice is a girl's. At first Jun is bewildered, but he eventually begins to open up to the girl he only knows by voice.
- PFF Award Competiton 2014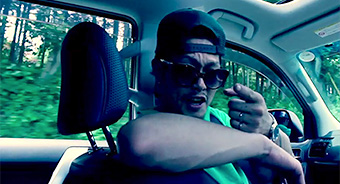 40min/color
Director: Yuki Kobayashi
Deciding that he wants to be of service to people, Oishi and his buddy Ogita become vigilantes. They roughly bring a shoplifter to justice, which in turn leads to retaliation by a gang of street racers. But the protagonists keep doing what they believe in! Creating colored versions of X-rated comics, car chases late at night, freestyle rap battling with the gang leader, and making a mad dash for the ER. The story is footloose and aggressive, blurring the line between reality and fantasy. The flood of images and music lash out viciously. The explosive force of the work drags us in.
- PFF Award Competiton 2014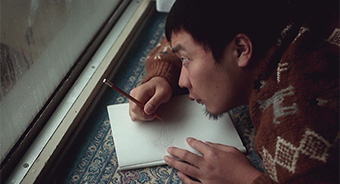 32min/color
Director: Shintaro Oka
* with English subtitle
Two brothers live together in a housing complex in Tama Hills. After the death of their parents, they returned to their childhood home and the now live there alone. The older brother has lost his ability to speak from the shock of having lost his girlfriend in a fatal traffic accident, which happened while she was having an affair with another man. The season is winter. The younger man waits for his brother's recovery. The overlooking view from the top of the hill, the siblings fishing together, snow melting in the spring sunshine... these details all acknowledge the freedom of living and dying along with nature.
- PFF Award Competiton 2014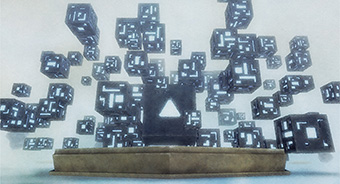 12min/color
Director: Shunsuke Saito
As one who teaches science at school, this work was quite fascinating and every detail evoked my scientific curiosity. The vaguely familiar designs of the shapes indicate the accumulation of the director's film experiences, and at the same time, I couldn't help but feel envious of the depth of his scientific knowledge, such as cell division, crustal movement, entropy and irreversibility.
- PFF Award Competiton 2014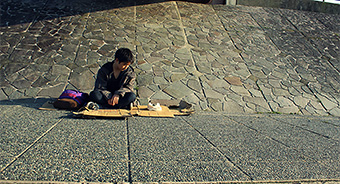 13min/color
Director: Masahide Hashimoto
A boy lives in a park where a river flows nearby. One day, he notices the existence of a rock lying next to him. He spends his time drifting from place to place within the small area between the park and the river, taking the rock along. Then suddenly, the rock disappears. This short film depicts the strange relationship between the sole character in the story and the rock in his possession without a word of dialogue.
- PFF Award Competiton 2014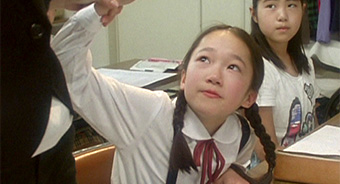 51min/color
Director: Saki Ino
* with English subtitle
In July 1997, Sara is a child going through the ordeal of studying for entrance exams. One day, she happens upon a random attacker killing people on the street in Shibuya, and mutters in awe, "Wow, that man's so free. He's freely killing people." Years later, she successfully enters the best university in Japan and is reunited with the three other boys who also witnessed the massacre. One of them, Sugisaki, is a diabolical young man who reveals the others' sealed-off memories and past deeds one after another. Sara recalls how she really felt about her mother, a desire that she had buried away deep in her mind. Meanwhile, her mother, anxious about the safety of her daughter, was on her way to the university.
- PFF Award Competiton 2014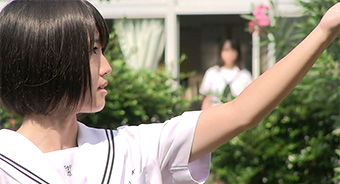 25min/color
Director: Isao Shibaguchi
The story takes place on the day before the start of summer vacation. In the classroom of a junior high school, someone tears up the timetable for the school trip and throws it away. Who could have done it? It turns out, however, that this minor incident brings the students in the class together and strengthens their friendship.
- PFF Award Competiton 2014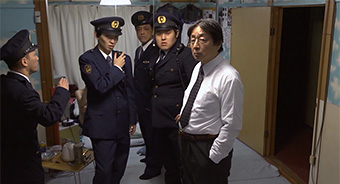 89min/color
Director: Yohei Suzuki
* with English subtitle
An incident occurs in an ordinary house in which a father attempts to commit suicide with his son. Only the father dies from a gunshot. His younger son Tetsuo and his girlfriend Yuriko witness the death, and from that day on their time literally stops. As Deguchi, a reporter, investigates the case on his own, he loses his way in a world that is absurd to the extreme. When people see the disquieting sphere that appears, time stops and the world warps. What it signifies is left up to the interpretation of the audience.