- PFF Award Competiton 2013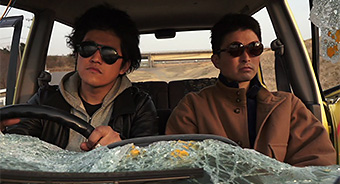 video/45min/color
Director: Yusuke Ichikawa
* with English subtitle
Icchi comes over to Keigo's house and the first thing he says is "lend me your car." Borrowing Keigo's mom's car without permission, Icchi tries to pick up girls one after another but is rejected each time. As the two friends go for a drive together aimlessly, their car is stolen and they confront a gang of delinquent thieves. Keigo ends up getting kidnapped, and out of desperation, Icchi attacks a police box and steals a patrol car. He finds a clue to locate his friend, but when he is reunited with Keigo, he is found cruelly beaten up and wrapped in a plastic sheet.
PFF Award Competiton 2013
GRAND PRIZE
- PFF Award Competiton 2013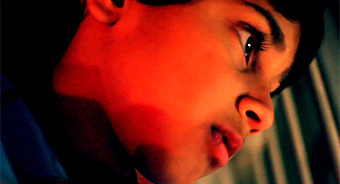 video/87min/color
Director: Yuko Igari
* with English subtitle
The sky seen from a large housing complex. Airplanes flying back and forth overhead with a roar. The boy spends his days looking outside the window of his home and drawing pictures with the TV on. The girl walks slowly down the long staircase, plays on the swing and scribbles on the ground. The boy's parents are illegal immigrants, and the girl's mother is passed out drunk in the doorway every morning. The two children who have been spending their days alone discover each other one day. Using such simple methods as toy guns in the afternoon and flashlights at night, the two begin to exchange messages. Eventually they start playing together and become absorbed in the joy of being with one another. When the harsh reality of their lives almost engulfs them, the boy prays for the girl and the girl flies a paper airplane for the boy.
PFF Award Competiton 2013
RUNNER-UP AWARD
- PFF Award Competiton 2013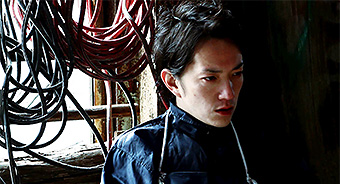 video/79min/color
Director: Tomonori Izutani
* with English subtitle
Mejima and Hachio are young men who slaughter meat for a living. When they go out to pay for sexual services, they meet a young Chinese man named Lee. Although Mejima claims that he has "no purpose in life and all that matters is having a good time," the expression on his face always hints of anger. Meanwhile, Lee is a shrewd man who lives greedily in pursuit of happiness. His fellow countrymen trust him immensely and the Japanese sex worker Mon also adores him. When Mejima meets Lee, someone whose life is a complete contrast to his, something that had been lying dormant inside him awakens and suddenly bursts out one day.
PFF Award Competiton 2013
SPECIAL JURY PRIZE & GEMSTONE AWARD
- PFF Award Competiton 2013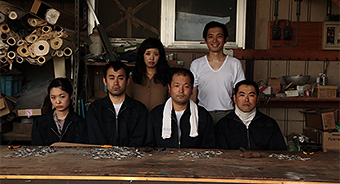 video/99min/color
Director: Akira Ikeda
* with English subtitle
Kogure gets a job in a factory that produces paperclips by hand from wires. He works monotonously day after day in a rough working environment under an overbearing manager. One day, Kogure finds a butterfly trapped in his apartment room and sets it free. He then comes home from work to find a woman who speaks a strange dialect inside his apartment. The next day, a man who appears to be the woman's father settles in the apartment as well, and the odd trio starts living together. But their relationship gradually begins to change after a certain incident.
PFF Award Competiton 2013
SPECIAL JURY PRIZE
- PFF Award Competiton 2013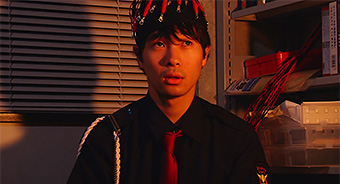 video/64min/color
Director: Yosuke Yamashita
* with English subtitle
A young man works as a security guard at a university. He patrols the campus grounds at night, makes small talk with an older coworker when necessary, and goes home when his shift ends in the morning. There is nothing special about his routine. Then one day, he becomes obsessed with "watching" things. His obsession begins when he starts to sneak looks at a certain female student, then it escalates when he happens to witness a random attacker assault a person on campus. The chase between the random attacker who victimizes women living alone and the young man who tails him unfolds in the city at night. The distance between them gradually becomes closer until they end up colliding. The terror of being assaulted by the random attacker and the possibility that the young man might actually be a random attacker himself build up the suspense in this movie.
PFF Award Competiton 2013
SPECIAL JURY PRIZE & JAPAN FILM PEN CLUB AWARD
- PFF Award Competiton 2013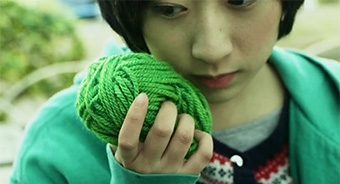 video/78min/color
Director:Yugen Sato
On a beautiful sunny afternoon, a girl is released from the reformatory. She comes home for the first time in a long while, but her father is visibly flustered and her mother is gone, having left home. Her father forbids her to listen to the music that reminds her of her late older brother. The girl begins to act on her own. She finds out where a certain young man lives and starts to observe his daily routine. One day, as she follows the man again, she impulsively makes her presence known to him. Though startled, he accepts her and takes her in. He had been charged for a crime in the past and was now making an honest living to get back on his feet again. The two start spending peaceful times together, but when the girl's hidden motive is revealed, it greatly shakes up the young man.
PFF Award Competiton 2013
ENTERTAINMENT AWARD
- PFF Award Competiton 2013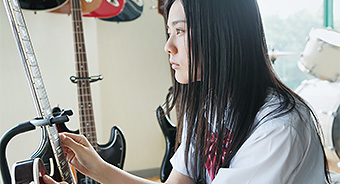 video/73min/color
Director: Asami Hirano
* with English subtitle
Haruki and Nao grew up together in a home, caring for and protecting each other like brother and sister, like best friends, like boyfriend and girlfriend. One day, a classmate talks Haruki into playing the guitar in his band, and he gradually becomes passionate about making music. But Nao is deaf and is unable to hear Haruki's playing. As Haruki's world begins to expand, Nao starts to feel alienated, so when she is reunited with her mother who had deserted her long ago, she decides to leave the home.
PFF Award Competiton 2013
CINEMA FAN AWARD
- PFF Award Competiton 2013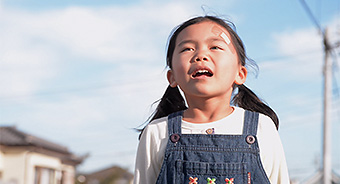 video/30min/color
Director: Mifa Park
Kana is a first grader who can't ride a bicycle without training wheels. Although she is still very young, her tender little heart is overshadowed by the discord between her parents. While she does her best to smile in front of her parents, she is screaming inside, thinking desperately how to keep her father and mother's hearts from drifting apart.
- PFF Award Competiton 2013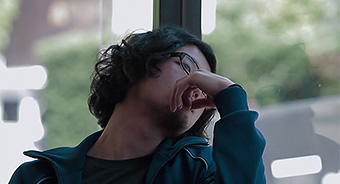 video/63min/color
Director: Hiromitsu Ito
Minoru is a man in his early 30s. His father only shows up to sponge money off him. His older sister who lives elsewhere wants him to lend his name for an insurance contract. Money is the only thing that connects his family. He goes to a motel with a woman he used to have feelings for, but the irritation beginning to grow in the pit of his stomach makes him keep a distance from her as well. His live-in girlfriend will soon be moving out. Their conversation, bordering on bickering, suggests that they've always interacted with each other like this. But they've already broken up and are now strangers. Minoru is no longer allowed in her room and is prevented from seeing her naked.
- PFF Award Competiton 2013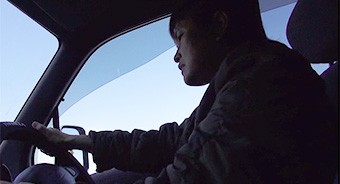 video/45min/color
Director: Hiroaki Kawatsu
The year is 2012. Hiroaki Kawatsu, the director of this film who is living in Kyoto to attend university, receives word that his parents are getting divorced and returns to their home in Kumamoto. The reason was his father's massive debt. Hiroaki discovers then that his father had left home 3 years ago. After retiring at mandatory age, he had finally landed a job as a taxi driver and was living in the company dorm. Hiroaki goes to meet him. When they see each other again for the first time in a while, his father looks forlorn and exhausted, and Hiroaki experiences mixed feelings about the way his father lives alone in the dorm. But as they spend time together after a long absence, Hiroaki capturing his father's life on camera, he begins to see the human side of his father that he had been unaware of before. This realization brings on changes within Hiroaki himself.
- PFF Award Competiton 2013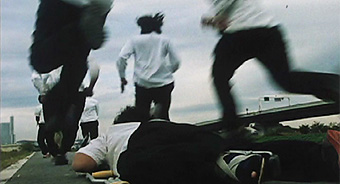 video/6min/color
Director: Keisuke Yamamoto
* with English subtitle
No one can stop this excitement in our hearts! The students of an all-boys high school, who have zero contact with girls, sprint out of the classroom at the sound of the chime signaling the end of the school day. The reason? To tell the girl of their dreams how they feel! The boys go hurtling through the school gates, fight with their rivals in the rice fields, and finish off with an all-out race straight down the riverbed to win the right to declare his love for the girl. But even when they make such an effort, she is completely oblivious to their feelings. As the dusk closes in, all the boys see is a blurry sunset.
- PFF Award Competiton 2013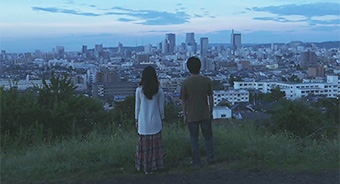 video/92min/color
Director: Takuto Kato
Tomoo lives alone in the house that his father left behind along with his debt. Sachi happens to run into Tomoo again and ends up moving into his place. When they start living together, not as lovers but as housemates, other people such as a coworker and even a neighborhood kid join them, eventually forming a family-like community in the house. Tomoo had hitherto avoided becoming deeply involved with others, but he begins to feel truly at home in this environment and starts to wonder whether or not he should let go of the house to repay his father's debt.
- PFF Award Competiton 2013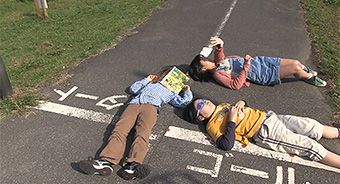 video/52min/color
Director: Mari Kawakita
When she was little, Ayumi had a habit of talking to telephone poles. Now that she is in the upper grade of elementary school, she is still the odd one out in her class. One day, something unexpected happens which causes her to go looking for a tortoise that has gone missing in the neighborhood. She joins forces with a couple of other kids who also don't fit in at school, a knowledgeable science whiz and a boy who loves animals. They keep searching, each contributing knowledge from his and her special interest, but they cannot find the tortoise at all. However, the encounters with the eccentric adults they run into along the way help them to grow up little by little.
- PFF Award Competiton 2013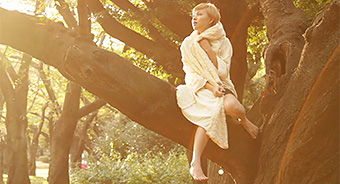 video/26min/color
Director: Yoshimi Tajima
This movie opens with a beautiful song being sung by a solitary person in a forest. It then goes on to the episode of a mysterious signboard left on an embankment with the words "I'm sorry" written on it. This film, His Eye Is On The Sparrow, focuses on the people who gaze at such art that exist "without being asked to" by anyone. "The Lord watches over even a single sparrow." A public official tells the creator of the artwork entitled "The Sign" to remove it. A young woman scribbles on the sign. A boy tries to erase the scribbles and rips a hole through it by accident. The creator of "The Sign" watches over all of these events and accepts what happens.
- PFF Award Competiton 2013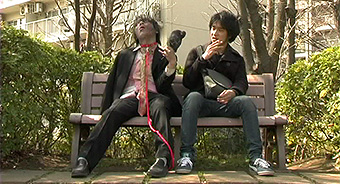 video/49min/color
Director: Wataru Togashi
A new virus discovered in Haiti called the "Voodoo Virus" quickly spreads, filling the world with walking dead. The pandemic outbreak of the virus occurs in Japan as well, and it is now normal to see zombies walking around in the city. One day, a zombie with an arm missing appears before Shoji, who makes a living working part-time. He invites the zombie into his home, feeds it raw meat bought from the supermarket, and they begin to live together. Shoji calls the zombie his "friend," and they go for walks with the zombie in a collar and leash. As the days go by, however, slight changes begin to occur in both Shoji and the zombie.
- PFF Award Competiton 2013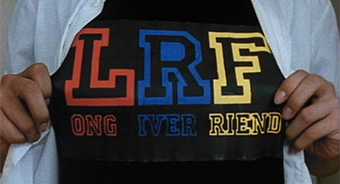 video/10min/color
Director: Shuji Arai
Takashi, a high school student, is rejected by the girl that he likes because of his long hair. So he resolves to cut it short, breaking off his allegiance with the "Long-haired League" that his family has been loyal to for years. The Long-haired League was a solemn promise made with their host family in the Philippines. The tear that Takashi sheds when he asks for permission is moving, and it helps establish this outlandish premise as well as convey the gravity of his decision. Then, when a friend tells him about the legendary indies band "LRF," he discovers a secret about a family member's past.