- PFF Award Competiton 2012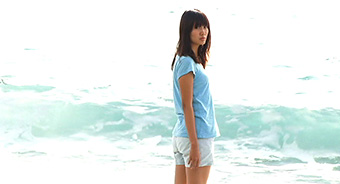 video/69min./color
Director:Keiko Tsuruoka
* with English subtitle
Why did the whale that adapted to life on land return to the sea, choosing to take on an ordeal by heading to a new world? Machi is a high school student who continues to think about her older brother who disappeared 6 years ago. She is best friends with her classmates Asahiko and Hotaru, and they plan a short trip to Tokyo during their final high school summer vacation. They find out that Machi's brother is in Tokyo, and board a train with a scant clue and anticipation in their hearts.
PFF Award Competiton 2012
GRAND PRIZE & GEMSTONE AWARD
- PFF Award Competiton 2012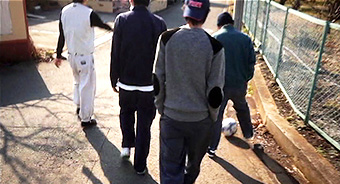 video/92min./color
Director:Ryutaro Ninomiya
* with English subtitle
A group of men works at a factory that fixes vending machines. Yoda is a quiet man, always keeping a distance from the others and spending his time by himself. Takahashi is a senior worker who doesn't like Yoda's attitude. Oshima warns Takahashi not to be that way. Sakata, a coworker, greets Yoda every day, trying to make friends with him. One day, Takahashi lets loose his dissatisfaction with Yoda. Because of that and some private problems, Yoda irritably walks through the city at night and runs into a slightly drunk Sakata who is on his way home from a party.
PFF Award Competiton 2012
RUNNER-UP AWARD
- PFF Award Competiton 2012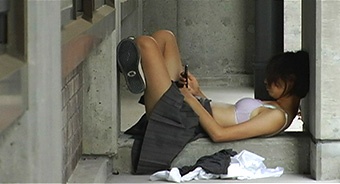 video/43min./color
Director:Kana Inoue
Various forms of sexual love exist around Hijiki, who attends a girls' school. It appears her father is having an affair. The relationship between her friend Azumi and their teacher Mr. Sawamura is also suspect. Adults seem to want her. Nothing changes even when she dresses like a man. The school nurse Tomoko Fukuhara waits for her again today in the nurse's office. Azumi ties Hijiki's undone shoelaces for her. She feels that she should be upfront with Azumi. Hijiki loathes her own femininity, but to face up to her own nature, she decides to muster her courage a little.
PFF Award Competiton 2012
SPECIAL JURY PRIZE
- PFF Award Competiton 2012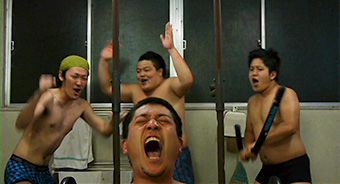 video/71min./color
Director:Goichi Mine
* with English subtitle
Daikichi is an aspiring stuntman, who left his cute girlfriend back in his hometown of Kumamoto and came to Tokyo. But he wasted his days in Tokyo drinking with his friend Tenshi, an aspiring filmmaker also from Kumamoto, picking up girls, and working on ideas for a film that will never be completed. Before he knows it, he is about to graduate. His future is unclear and his dream might not come true. Realizing that both his love life and filmmaking have hit dead ends, Daikichi sets out to perform the greatest stunt of his lifetime.
PFF Award Competiton 2012
SPECIAL JURY PRIZE
- PFF Award Competiton 2012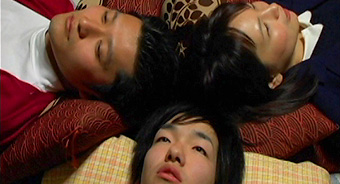 video/65min./color
Director:Tomoyuki Ito
* with English subtitle
Hiroto is a high school boy who isn't cool at all. But his true identity is "Sandaime Tenshindon," a regular contributor to a popular radio program. He forms a club of radio show contributors with Marcy, a delinquent student who looks up to "Sandaime Tenshindon" as his mentor, and Ayae, the girl Hiroto adores. Hiroto's boring days start to look up and he feels great, but Ayae quickly becomes more popular than him as a regular contributor. Then he begins to suspect that there might be something between Ayae and Marcy, and suffers an identity crisis.
PFF Award Competiton 2012
SPECIAL JURY PRIZE
- PFF Award Competiton 2012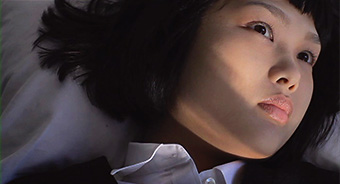 video/94min./color
Director:Ryohei Watanabe
* with English subtitle
Because of her last name "Kumada" (bear + rice paddy) and her appearance, Misa's high school classmates call her "Pooh" disparagingly. She obviously has no friends and can only let down her guard around her pet parrot and the goldfish in the science room at school. But then she finds herself quickly becoming best friends with Izumi, a cute and popular classmate. Although somewhat puzzled by Izumi's interest in her, Misa is excited about having a friend for the first time ever. But Izumi's initial angelic demeanor gradually transforms into a demonic one.
PFF Award Competiton 2012
ENTERTAINMENT AWARD & CINEMA FAN AWARD
- PFF Award Competiton 2012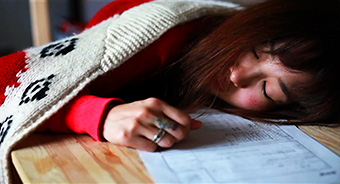 video/65min./color
Director:Taro Aoishi
Satsuki Sasano is a 20-year-old university student who lives in an apartment with her father, who is a truck driver. They have a good father-daughter relationship. She even has a boyfriend. One day, she witnesses an "incident" on site where she works part-time as a cleaner. Facing the malice of a stranger that unexpectedly surfaces in a place where she had innocently existed until now, Satsuki begins to sense that perhaps the daily life she'd never doubted isn't as peaceful as she'd thought. Feeling uneasy, she decides to change jobs.
PFF Award Competiton 2012
JAPAN FILM PEN CLUB AWARD *specially set up in 2012
- PFF Award Competiton 2012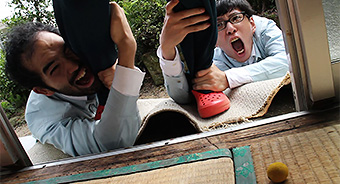 video/22min./color
Director:Hidenori Kato
* with English subtitle
Japan in 2021. With the accident that occurred 10 years ago as the turning point, the country has abandoned nuclear power. Instead, half of the electricity that it now uses is a new type of clean energy generated by "nameko mushroom miso soup. "One day, an accident occurs at the Metropolitan Electric Power Company Okutama Nameko Soup Power Plant. The nearby residents are advised to evacuate, but strange things begin to happen to the bodies of those left behind.
- PFF Award Competiton 2012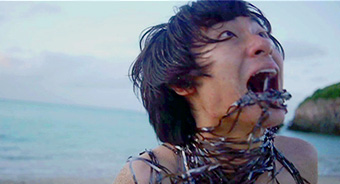 video/13min./color
Director:Mizuki Sakugawa
One morning, a boy falls in love at first sight with a high school girl at the bus stop. Agonized by unrequited love, he fantasizes about her every day. Then he starts to write a song. He's going to give it to the girl of his dreams. He musters the courage to go up to her and say, "Um... excuse me... please listen to this." Tragedy ensues. "No, no! It's not like that! What? Huh? Aaugh!" Mortification, embarrassment, and nausea. ...Nausea? He finds his way to an abandoned building and throws up. He spews out his sexual desire in the form of a squid. His feelings of love towards the girl in the form of a tape. Eliminating such things from his body, he will be born again at sea. He wakes up at a graveyard for guitars. It's the grave of the song that he wrote for the girl. "Good morning!" The grin of the introverted boy brims with sadness.
- PFF Award Competiton 2012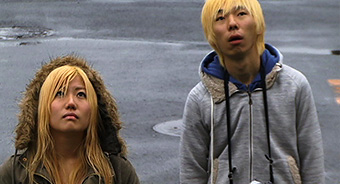 video/76min./color
Director:Ken Kawai
* with English subtitle
Kazaki is a young man who performs his part-time job mechanically every day. He came to Tokyo dreaming to become a photographer, but has been too busy making ends meet and hasn't touched his camera at all recently. One night, he meets Sara, a girl with dyed-blonde hair collapsed on the street, and takes her in for the night. He is drawn to the streak of red highlight in her blonde hair, and together they set out on a trip up north where she wants to go. They meet various people along the way and gradually become closer to each other.
- PFF Award Competiton 2012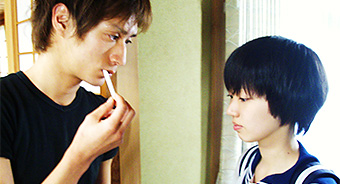 video/49min./color
Director:Ayaka Kato
Chiyuki is a girl in junior high who lives in a rural town. She begins to be bullied at school after her classmate Yusuke thoughtlessly confesses his love for her. There are no adults who could help her out of the peer pressure that breaks out in the small community. One day, a stranger comes to town. He apparently has some issues. Chiyuki meets and gradually becomes attracted to this man. Their relationship quickly becomes known in the small town, and the bullying in school escalates. Yusuke, whose confession started it all, can't help but worry about Chiyuki.
- PFF Award Competiton 2012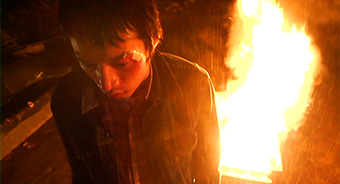 video/58min./color
Director:Masashi Nagayama
* with English subtitle
Yoshio is a timid milkman who is suffers from indigestion. He is unable to talk back to the middle-aged woman or the young man who work part-time at the delivery station. He can only vent when he is driving the delivery van, where he blasts music, spills out his daily discontent and plays word-chain games by himself. One night, he drives along a mountain road with the music blaring and accidentally runs over a dog. As he panics before the dying dog, a middle-aged man carries the animal to his house to give it first aid. This was the beginning of the night that would change Yoshio's outlook on life.
- PFF Award Competiton 2012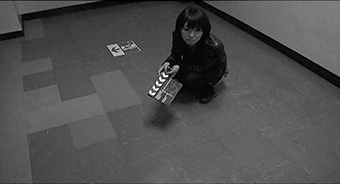 video/12min./color
Director:Yuki Yamato
* with English subtitle
Minami is a slightly boyish type of girl, and Sumire has an attractive face that somehow always softens the hearts of those around her. How do these two ordinary-looking girls, who could exist anywhere, have their love for each other reciprocated? How do they meet, under what circumstances, and what decisive factors affect the outcome? This series of short clips taking the form of interviews unravel the process of how the girls fall in love.
- PFF Award Competiton 2012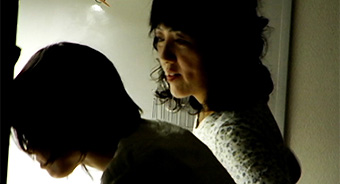 video/22min./color
Director:Takashi Kudo
Three years after the death of her mother, Kanako's father remarried. Now, her father is on his deathbed and she lives under the same roof with a woman who isn't her real mother. Will the two women continue to live together even after they lose the father, who was their only connection? Can the younger woman keep calling a woman who isn't her real mother, "Mother"?
- PFF Award Competiton 2012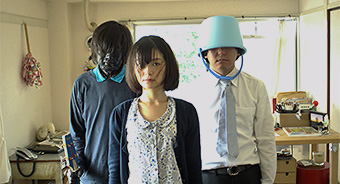 video/20min./color
Director:Yasuomi Kawahara
On April 11, 2011, a month after the Tohoku earthquake and tsunami, Akemi's ex-boyfriend Masao shows up without notice at her apartment. Akemi lives in Tokyo dreaming of her band's success, and Masao has come from their hometown of Osaka to convince her to return with him because he is worried about radioactive contamination. But Akemi's current life is her first priority and she has no intention of returning. As they fail to reach an understanding, a "black shadow" suddenly appears before them. When Akemi realizes what the shadow really is, what will she decide to do?
- PFF Award Competiton 2012
video/65min./color
Director:Aya Yumiba
* with English subtitle
Yuriko stands in the doorway of an apartment. A man's voice calls out to her from within the room. "Don't be shy. Come in." This apartment apparently belongs to this man, "Oyaji." Although their age difference is that of a father and daughter, they don't appear to be related to each other. They also don't seem to be lovers, either. The two of them cook and eat together, and this act of eating the same food cultivates closeness between them. Oyaji calls Yuriko "Rico." The story that starts suddenly without any clear indication of the relationship between the characters takes us by surprise, and the only way we can search for the answer is to keep watching the way they live.