- PFF Award Competiton 2010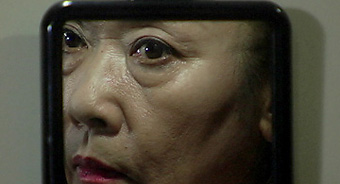 video/44min./color
Director:Kohei Yamakawa
* with English subtitle
Kimiko lives with her husband, an ostomate, in an old apartment. Taking care of him is hard work and living in poverty is stressful, so she sometimes becomes lost in wild fancies and goes over the past in her mind. One day, in a fit of hazy consciousness, Kimiko strangles her husband in his sleep.
PFF Award Competiton 2010
GRAND PRIZE
- PFF Award Competiton 2010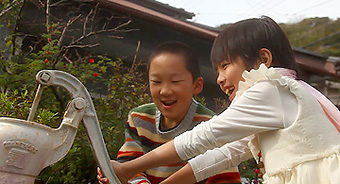 video/14min./color
Director:Shoh Kataoka
* with English subtitle
Kurage-kun (Jellyfish Boy) is a girlish boy who likes wearing frilly clothes. Kotaro is exactly the opposite, a bossy type who looks great in shorts. The two boys embark on a small adventure on the local line before one of them moves away, and their swaying emotions are illustrated.
PFF Award Competiton 2010
RUNNER-UP PRIZE
- PFF Award Competiton 2010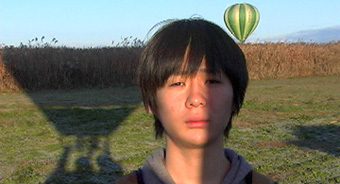 video/81min./color
Director:Satoru Hirohara
* with English subtitle
Yuta is a 10th-grader, nicknamed "Jamira." He is one of the duller students in his class. His friendships are awkward. He lives alone with his mother. His daily milieu is commonplace, and his world consists of traveling back and forth between home and school. He hears on the news that the suicide rate of minors is increasing. He sings and jumps around in his small room. He records the things he does everyday on his voice recorder, like the way he gave a nickname to everything he saw on his way home that day. One day, he steals a bag from a man on the street from idle curiosity, but finds the same man dead the next day.
Hong Kong International Film Festival 2011
Special mention - FIPRESCI Award
Vancouver International Film Festival 2010
Grand prize - Dragons & Tigers Award for Young Cinema
PFF Award Competiton 2010
SPECIAL JURY PRIZE
- PFF Award Competiton 2010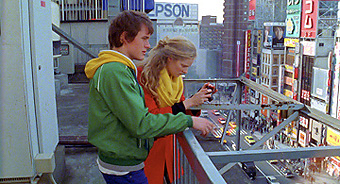 video/57min./color
Director:James McFay
Jack and Renee are models who reside in Tokyo for a limited time, taking small bites out of the consumer society. They fall in love but almost as if they are aware that the relationship will only last during their stay. They are portrayed like gypsies who travel to their next destination after siphoning off money through the superficial occupation that is modeling, as if they are tracing the surface of the avaricious society of Tokyo. It is almost as if no Japanese people exist in the Tokyo where these two characters live, and they seem to be protected from "something" by a huge balloon. They wander, lonely and detached.
PFF Award Competiton 2010
SPECIAL JURY PRIZE
- PFF Award Competiton 2010
video/83min./color
Director:Saori Abe and Nazuki Takahashi
* with English subtitle
On a winter's night, Haruwo arrives in Tokyo and crashes at her friend Atsuko and her boyfriend's place. She freeloads off them and begins working at a mahjong parlor that is quietly doing business on the second floor of a building in an obscure corner of the big city. Haruwo, who had been mostly absent from junior high school, had felt a void in her heart ever since then. But at this mahjong parlor, she meets others who are a bit like her, as if she were drawn into their midst. Maguchi, the visually handicapped manager of the parlor, is a former photographer rumored to have repeatedly committed theft. Asako, his lover, had formerly been hospitalized at a mental institution. Haruwo's coworker Alan has a handicap in his leg, the cause unknown. As time passes, Haruwo begins to feel deeply attached to these people, but her happiness does not last for long.
PFF Award Competiton 2010
SPECIAL JURY PRIZE
- PFF Award Competiton 2010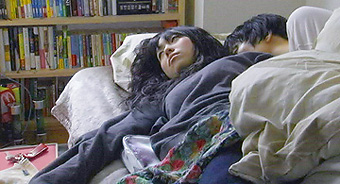 video/15min./color
Director:Megumi Tazaki
* with English subtitle
Anna can never wake up on time in the mornings and is fired from her part-time job after constantly showing up late. The protagonist is a self-centered woman who knows where her interests lie, so while in a friends-with-benefits relationship with a man who has a girlfriend, she is willing to move in with the newspaper deliveryman if she finds him convenient. She is a modern-day girl who is irresponsible and dishonest and is like a hermit crab who lives off others.
PFF Award Competiton 2010
Best Concept Award & Entertainment Award
- PFF Award Competiton 2010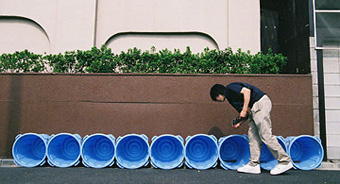 video/72min./color
Director:Gaku Kobayashi
After graduating from a university in Kumamoto, Yamada moves to Tokyo to job-hunt and begins working at a sushi delivery chain. Because he is much clumsier than others, he keeps making mistakes when he is told to take orders on the phone and is scolded by his coworkers. One day, he falls in love with Ryoko, a beautiful office worker, while handing out fliers door-to-door. He starts delivering sushi to her, lying that they are leftovers from work. Meanwhile, he continues to spew extremely slanted views on society to anybody he meets such as, "The correct way to live is to commute on the subway to Marunouchi," and "You can only interact with society by wearing a suit," like an advertising pillar for the stereotype of a capitalist society. He also verbally abuses others by calling them "country bumpkins," which in turn exposes his own sense of inferiority about his rural upbringing. By doing so, he makes everyone he meets loathe him. Eventually, when everything begins to go wrong, he tells a blatant lie to his own mother, the only person who had shown him kindness throughout.
PFF Award Competiton 2010
Cinema Fan Award
- PFF Award Competiton 2010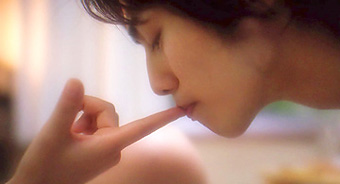 video/33min./color
Director:Norihiro Niwatsukino
* with English subtitle
Eriko is a university student. When she wakes up in her apartment where she lives alone, she eats homemade strawberry jam spread on a piece of bread. She gives a big jar of her jam to Endo, who doesn't have much money, and he polishes it off instantly. When she runs out of the strawberries sent from back home, where her family runs a strawberry farm, she takes the trouble to shop for more at the fruit shop to painstakingly make more jam for Endo.
- PFF Award Competiton 2010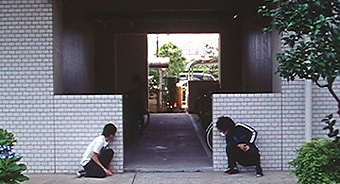 16mm/52min./color
Director:Ryu Morioka
* with English subtitle
City Hall broadcasts a photochemical smog warning that echoes languidly over the hazy city. Kaworu and Ogi spend a lot of time just hanging around indoors, or out fishing for crawfish, and just generally fooling around together; they get along but aren't exactly lovers. Ogi always ends up doing whatever Kaworu tells him. When Kaworu becomes attracted to a girl he sees eating pudding in the elevator in the condo where he lives, he tells Ogi to act like the bad guy in a stupid scheme to get to know her. Ogi reluctantly agrees, but even though he hurts his arm, Kaworu leaves him behind and becomes more intimate with the girl.
- PFF Award Competiton 2010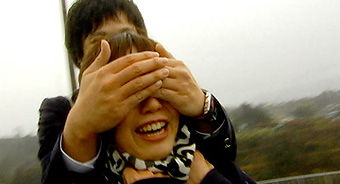 video/18min./color
Director:Yu Katsumata
A high school girl is humming Beethoven's 9th Symphony along a path between rice paddies in the countryside. A high school boy comes along and shouts, "You're off key!" at her. This work gradually shows how a "time limit" is creeping up on these two longtime "best friends." The girl, who wants her feelings for the boy to be requited, bares her soul by letting down her hair and taking off her clothes to question him. The boy, however, cannot bring himself to take their relationship one step further.
- PFF Award Competiton 2010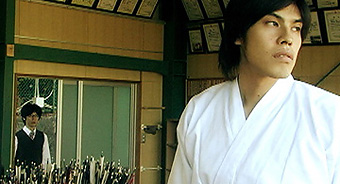 video/50min./color
Director:Yoshino
The transfer student has begun living with his mother after his parents' divorce, but he cannot let go of his love for his father and hangs on to a camera his father left behind. Meanwhile, the classmate who takes interest in the transfer student appears to be a generous sportsman type, but in fact he is still mourning the death of his beloved younger sister.
- PFF Award Competiton 2010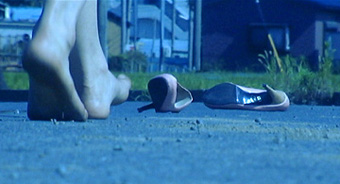 video/66min./color
Director:Chihiro Amano
Michiko decides to give up playing the piano although she had been taking lessons since she was very young. She returns to her parents' place and begins working in a factory. She decides to imitate Mami, who had been the only woman among all the workers in the factory until then and the center of everyone's attention; for the first time in her life Michiko plucks her eyebrows, starts wearing makeup, and begins dressing better. Coincidentally, a childhood friend, Okamoto, was also working at the factory. Michiko had never forgotten the kind words that he had given her back when they were in grade school together, and is thrilled to meet him again. But he was going out with Mami.
- PFF Award Competiton 2010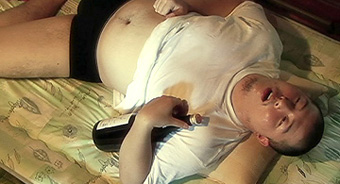 video/75min./color
Director:Yosuke Okuda
* with English subtitle
A man and a woman, former lovers who have each given up hope in life, are reunited after several years. The woman has become a sex worker who cannot escape the yakuza, and the man copes with routine work as if he has been forsaken by society after failing to live up to its expectations. The memories from when they were younger pumps up the man's adrenalin as if responding relatively to the reality of his current life. But of course, he doesn't get the woman, the symbol of hope, or the big money, and the yakuza (= violence) that brings reality home to him is in turn forced to give in to a greater violence called society. From there on, life becomes nothing but a routine that produces further despair.
- PFF Award Competiton 2010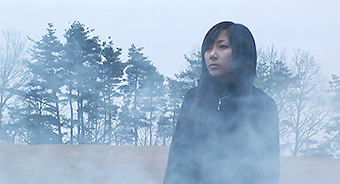 video/60min./color
Director:Takahiro Yamauchi
* with English subtitle
Kanan, a teenaged girl who shoots personal movies, is convinced that a ghost appears in her room and manages to capture it on her digital video camera. She visits her mother and older and younger brothers who live far away to show them the footage, but realizes that the ghost that she shot is only visible to her. Thinking that the ghost is either of her father who committed suicide when she was a child, or another older brother who drowned to death, she feels that her remaining family has been cursed as well. And possibly due to the power of her conviction, people begin to die one after another.
- PFF Award Competiton 2010
video/52min./color
Director:Hiroshi Horiuchi
* with English subtitle
This work depicts the awakening of a girl's self when she is pushed to the limit, and her counterattack on the inescapable bonds of life.
- PFF Award Competiton 2010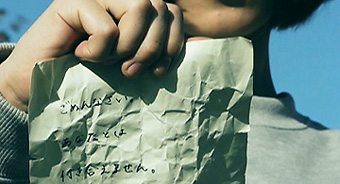 video/49min./color
Director:Hitoshi Kitagawa
An older sister is devastated by her younger brother's suicide and decides get her revenge on a young woman that he had loved. The sister steals the letters that the woman writes to her current boyfriend and tries to break them up. But her revenge ends up backfiring. The endless cycle of retaliation is depicted with black humor.